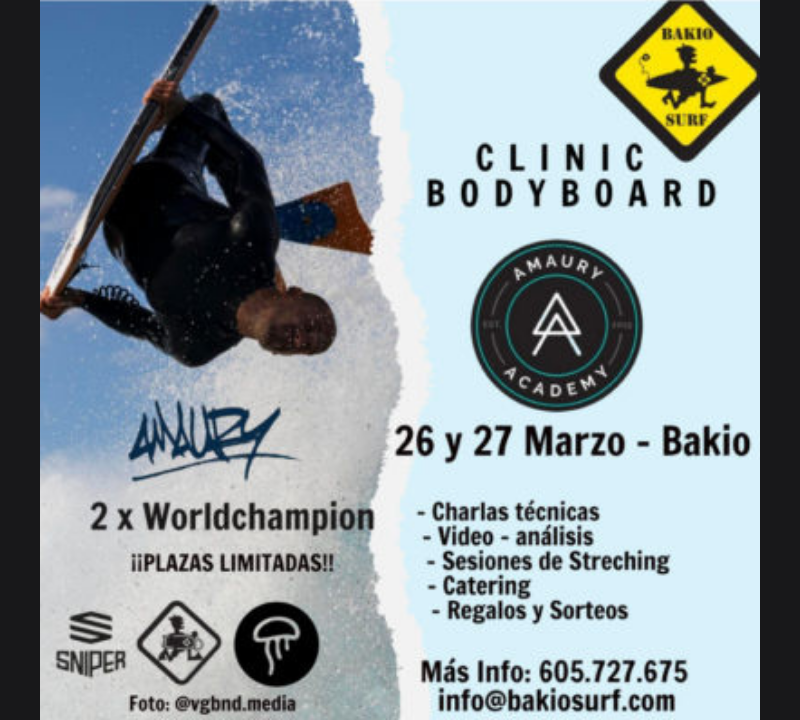 Bakio Surf Eskola – Playa de Bakio – Basque Country
It is springtime and sunny day, on 26 & 27th of March, for all the riders attending the bodyboarding clinic organised by Gaizka  for the Bakio Surf school.
Bakio is a municipality of Biscay in the Autonomous Community of the Basque Country in Spain, about 100 km from the French border.
ADAPTING MY TEACHING TO ALL RIDERS
Despite of the small conditions we had for these two days of Amaury Academy workshop were a sucess !
Technical workshops, video analysis, stretching and physical preparation trainings and nice riding sessions in small waves punctuated these two days.
The main point for this type of course is to spend the most quality time with everyone.
Then I am able to share good bodyboarding content such as technical and physical tips, video analisis but also talking about gear, waves, training, nutrition etc…
It is important to adapt my advice according to every rider.
Thanks to Gaizka for organizing this course.
We both look forward to develop other projects in the Bask country where the bodyboard has a long and solid history.
Bodyboard should keep growing and developing !