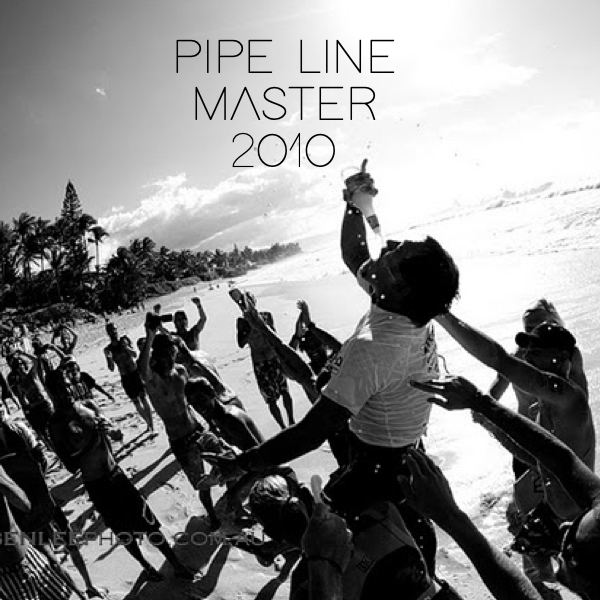 I win the mythic Pipe Line Pro !
The Turbo Pipe Line Pro on the North Shore in Hawaii is the first event – and the main event – which opens every year the IBA World Tour in which I have been participating for 3 years as a professional. The 2010 edition started on Feb. 16 with the trials, with a 10-day waiting period, as the conditions were expected to be better at the end of the week. I feel impatient after such a long wait.
Friday 26th is the last day of competition, the comp has restarted in perfect conditions with solid waves between 8 and 12 feet. As I am in the top 16 (Top 6 WT 2009), I enter directly in the 1/8 finals (round 8). I start with a 9.5/10 just to test my form and determination.  I go step by step in the contest, focused on each series without thinking about the final, to ensure my surfing throughout the course. I feel in a flawless run to the final.  I ensure my confidence by finishing first in each heat. In the semi-finals, I defeat Ben Player (Australian, 2 times World Champion) very motivated for the title at Pipe and Pierre-Louis Costes, my best rival and friend.
I feel no pressure, I am just happy to be in the final. On the end on the heat, I score high with a precise and daring trick : barrel-back flip-rollo and I get an unexpected 10… A sort of dream for all thrill seekers and for me ! With 17.50/20 score, I leave high and dry Damian King (Australia), Diego Cabrera (Canaries) and Jared Houston (South Africa). I am really full of emotion and joy. It is a moment of grace, I want to share with all those who follow me and trust me.
I have been training hard since my arrival in Hawaii in early February. I am in a great shape and focused. I feel my progress, my commitment and my motivation getting bigger.  I want to do better than I did in 2007 when I was 3rd in the final on the same even, a première for a French and European bodyboarder.
With this victory, I probably fulfill one of my big dreams. It is of the most coveted titles, the North Shore is one of the most difficult to ride as the extreme conditions make this spot inaccessible.
Reunion Island and France now have their flag engraved in the PipeLine rock, next to the biggest names in bodyboarding. With 2000 points, I take the lead of the 2010 WT that will continue until December, between Australia, Brazil, Peru, Chile, Mexico, then Europe with Spain, Portugal and the Canary Islands… It' gonna to be a long season, I've got to stay the course. I will keep my goal. MY LIFELONG DREAM…
Leer en Español PIPE MASTER 2010-ESP