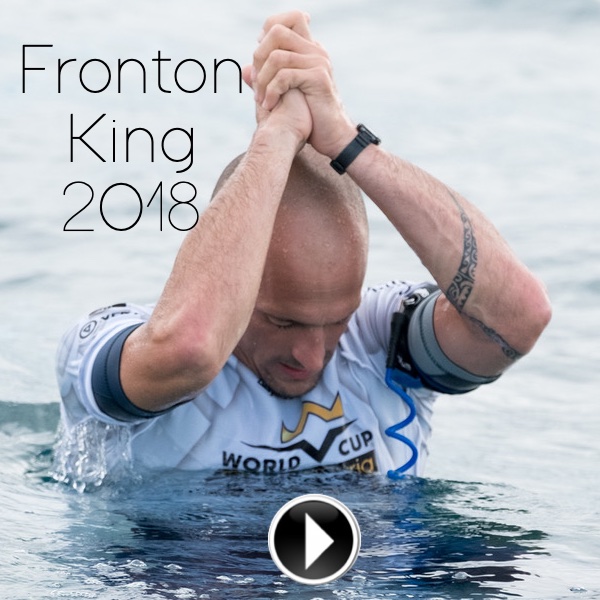 Gran Canaria, Galdar, October 2018
The Fronton King 2018 is a World Cup form and is not part of the APB round, following disagreements with the organisers.
So there are few riders of the World Tour but the level is really high, with guests of choice as Dave Hubbard, André Botha and Guillerme Tamega who are not the least.
Above all, there are many canarian riders who know the spot perfectly and are serious challengers.
Among the stages of the World Tour, the Fronton is the one where the local riders have the highest level.
The 2018 edition offers a prize money of 12,000 € to the winner, the strongest in the history of bodyboarding.
For my part, I do not hesitate a minute, with a prize money like this on one of the waves best suited to our sport.
And I want to win.
The organisation and the promotion of the event is perfect, worthy of the world level : live webcasts and comments,  interviews, press realise, concert, demonstration in schools…
The fan-zone on the cliff is crowdy and the online audience is high-level .
During the comp, I keep my hand throughout the heats, I'm really focused and motivated to win. 
In the semi-finals, I take tamega out with 18,57 pts and I am happy to face Jonathan Vega, a strong canarian rider, in the final.
During the final, I begin with a 7 followed by an 8-pts wave. Jonathan answers me with a 7,1 pts.
I find a good left tube + invert + rollo scoring 9,5 pts. Jonathan is in a combo position.
However, five minutes later I get a huge tube on a solid right and deep barrel catching 10 pts.
When the bell rings, the socre is 19,5 pts for me and 15,2 for Jonathan Vega.
On this tricky and powerful spot, tension and concentration are essential to succeed.
Now the pressure is dropping. Emotion overwhelms me. My heart is full.
Fronton is a kingdom to be conquered constantly…