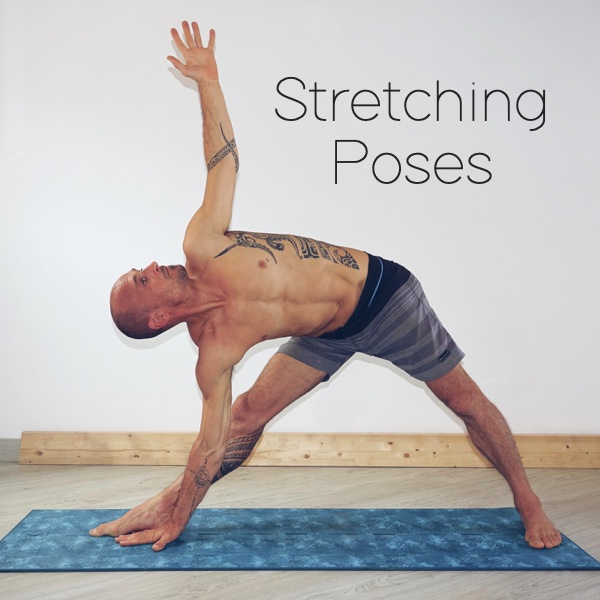 MY ROUTINE WITH STRETCHING POSES
You want to feel in a good shape and to improve your flexibility ?
A few daily stretches help to gain flexibility and strength.
Here are some easy-to-achieve positions and the benefits they provide.
Breathing and concentration are the keys to progress, in my opinion.
TRIANGLE
Utthita Trikoâsana
Strengthens the thighs, knees and ankles
Stretching groins, hamstrings, calves
Open chest and shoulders
Facilitates digestion
WARRIOR II
Virabhadrâsana
Strengthens arms and shoulders muscles
Opens your chest and lungs
Trains the abdominal muscles
Stretches hips and thighs
Works on legs, ankles and feet
UPWARD FACING DOG POSE
Urdhva Mukha Svanâsana
Stretches the lumbar area

Tones legs and glutes

Stimulates the abdominal strap and abdominal organs

Strengthens wrists, arms and back

Stretches shoulders, chest and stomach.
DORSAL STERTCHING BY ANGLING
Stretches dorsal and shoulders
Stretches ischios

Strengthens lower back

Opens chest and shoulder
CRESCENT MOON
Anjaneyâsana
Indeed, it serves as a very good stretch for the thighs, shoulders, rib cage and even the neck.
Strengthens of the abdominal belt
Relieves and relaxes the lumbar
Stretches the psoas and hip flexors
SCORPION
Vrischikâsana
It is made to gain strength and flexibility.
This position targets the back, hips, abdomen and legs and is very effective in firming the body.
Very good way to strengthen the back and torso
Strengthens arms and shoulders.
Helps to have a better balance


My advice :

Vrischikasana requires a good balance, much more than strength in the arms and shoulders.
Scorpion is above all a game of checks and balances.
When you are in the right position, the effort seems to almost disappear.
This is one of the most difficult asanas to master and it should be attempted only by advanced yoga students…
May be I will show you the pose on a training video soon ?