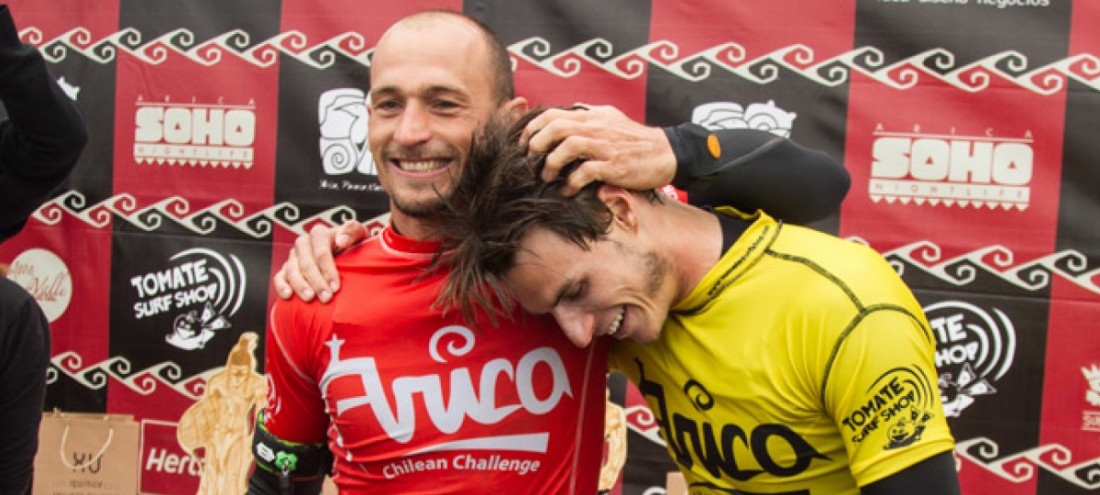 14 July – Just after my victory in Brazil at Itacoatiara, I arrived in Arica full of motivation but with a bit of pressure: as the 2014 World Champ and the champion of the previous edition. This wave is powerful, consistent and this is one of my favorite wave on tour.
Consequently, I keep strongly focused, from the beginning until the end. I fight step by step, one score after one score, with one aim in head: winning each heat. It asks for physical and mental resistance.
In a heat, until the last second, nothing is lost. Everything can happen if you believe it can happen.
On the final, with Jared Houston, the waves are a big smaller and I know that I have to score some waves early in the heat. In the first five minutes, I get 18pts. Jared has 25 minutes to overpass my score. Late in the heat, his 9,5pts invert allows Jared to get 18pts too.  So what? In a final suspenseful exchange with 20 seconds remaining on the clock, we both take off on a split peak. This last effort is no avail. We are ex-aequo when the bell rings. The rule is simple: Jared wins on a tiebreaker with his higher score. 9,5pts.
Congrats buddy you did an amazing contest !
Thanks to all the people involved in the organisation of this contest, by far the most consistent wave on tour. Ten years already that I am coming in Arica and I cant wait to come back to surf Gringo again !
See more pics in my gallery  ARICA 2015
APB video FINAL DAY HIGHLIGHTS ARICA 2015
BocaNegra video Moz in Arica