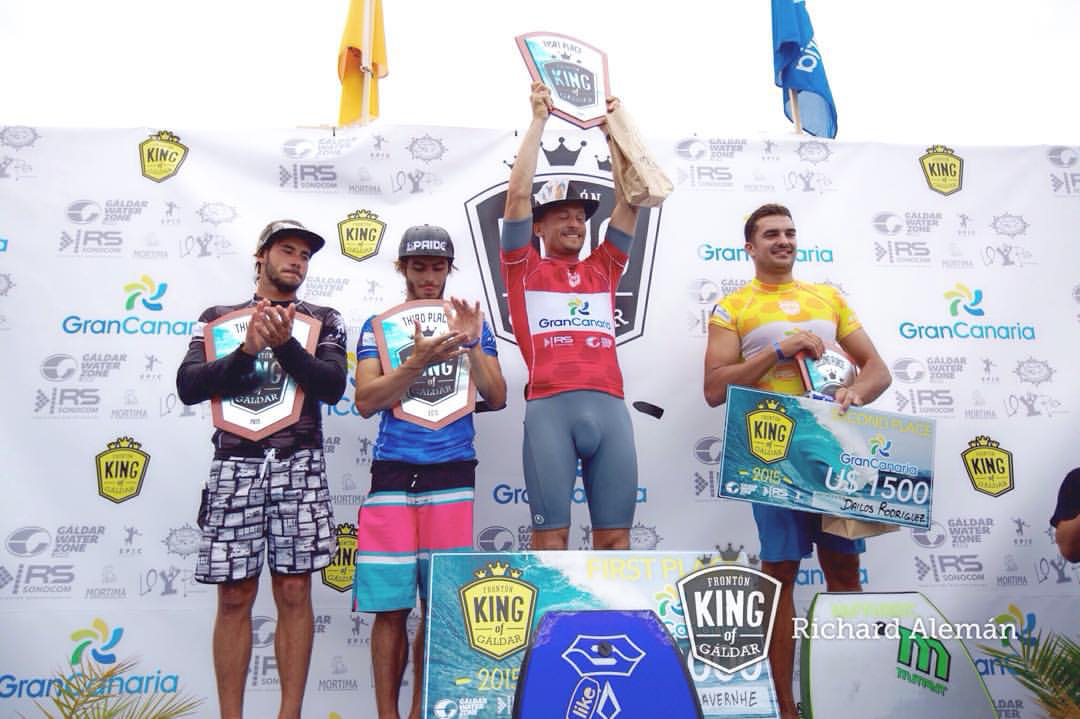 October 5 – I am just back home from the Nazaré Pro -Portugal- as the waiting period of the event begins on El Fronton – Galdar, Gran Canary.  A good swell is  to come. Saturday Oct 10, on the first day of the comp, for the 16 first heats, the conditions are nice but not as big as expected. A better swell is forecasted.
On day 2,  in the morning check-in, the wind and the rain ruin the spot and it seems impossible to launch the comp. Anyway, the organizers push the button ON and the contest starts as the rain stops, the wind changes and the waves come. This day is a very good day and the heats ask for good physical conditions. With no priority, it is more complicated, you have to take your chance and every one is fire. My semi-final against Diego Cabrera is tactical and need to score high. During the final with Dailos Rodriguez, I feel confident, the tubes are solid and my tricks are clean. Scoring 19 points is really amazing for me. In this heat, more than the others, the physical condition makes the difference. Dialos is tired, the cramps make him unable to score. I feel better, more resistant then more efficient.
My wife Malennhy is here, attending the comp, she is a girl from Galdar, a blessed town that owns El Fronton, La Guancha y El Agujero. The first time  I have seen her, was in 2011 ISA Games, at the same place… This title is very symbolic for me.
I feel proud because as you know, I live now in Galdar with my wife and our son Oliver and I dedicate my trophy to all people living there that welcome me every day and make me feel ``at home``.
As a 2015 Speciality Event APB, the contest Fronton King organized in Galdar is now achieving a new recognition after three years now. The spot El Fronton is considered as one of the best World Class waves for bodyboarding. In 2012, with no more local support, the IBA cancels this renowned World Tour last step.
In 2013, Canarian organizers launch the contest El Fronton King. Most of competitors are local riders but they are not the least : the level of these guys is awesome and the quality of the wave is top level. 2015 is the third edition. Hope that the fourth one will be an APB World Tour step.
Long life to the Fronton King ! Hope you will all be there next year for the APB World Tour.