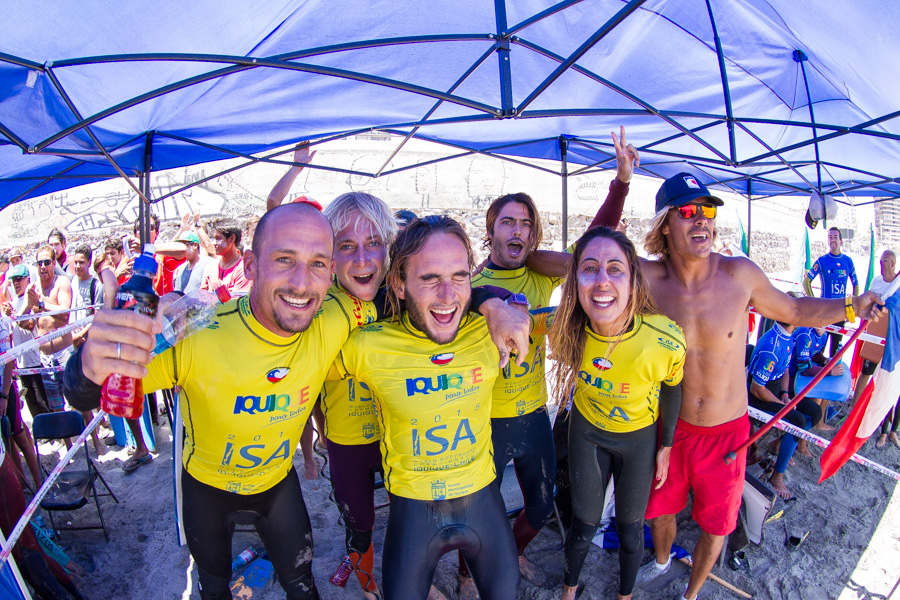 2015 ISA Games – French Bodyboarding Team
Going to Iquique – Chile in December for the ISA Games,  my last contest of the 2015 year,  is such a chance and an amazing moment. As in 2014, I am the Captain of the French Team competing with 69 athletes from 14 National Teams that travelled from around the world to compete for Gold Medals in the name of their nations. In every team you have an U18 boy and U18 girl, a Women, 3 Open men and one dropknee rider representing all the facets of bodyboarding.
It is a great sporting adventure and a rich human experience that I will remember all life long.
Even if it is summer in Chile at the moment, the waves are still pretty consistent and we have some fun conditions all the way. The weather is just perfect, sun everyday, rain once a year and glassy every morning. Training sessions are a bit hard because the spot is narrow and we are numerous…
During the championship, we do our utmost to bring points to the team as well on individual heats as during the Tag Team. Congrats to Anne Cecile Lacoste for the Women ISA World Title, to Kim Veteau for the Bronze medal in U18 girls. PLC is 9th and I finish 5th.
For the Tag Team, I am with with Pierre-Louis Costes, Martin Mouradian (DK), Anne-Cécile Lacoste and Milo Delage :  we win the Gold medal after an amazing team work, team spirit and a team victory! The French Team gets the Bronze Medal at the general Nations ranking
Doing the sport you love, representing your country, with your friends is just awesome and I am proud of what we achieve during these ten days. The only perfectible point of this contest : there is no priority system and many riders have been penalized for interferences. It is the case for Pierre-Louis… Hope that this obsolete system will soon change.
Anyway, congrats to all the riders and to the Brazil team who is 2015 ISA World Champ and I hope see you guys next year. We still don´t know yet where would be the next ISA games  but it will be an other great event for sure!
See more pictures ISA Games 2015 in my Gallery
See all the 2015 ISA World Championship Bodyboarding : click here